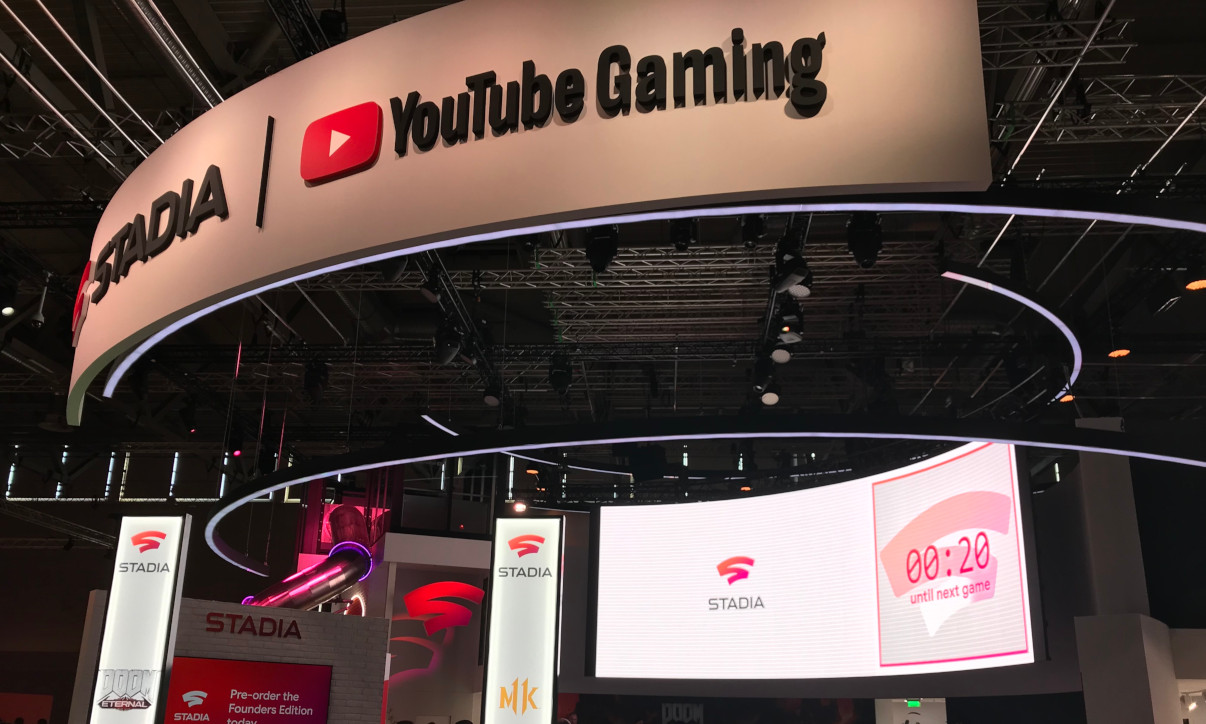 I'm still not sure whether to continue covering news on Google Stadia. The games technically run on Linux servers and it will eventually be able to stream to a browser on Linux, so in that regard it seems relevant. On the other hand, there are no plans to have the games run locally on Linux. Right now, it seems to be interesting to all gamers as something novel.
Google had quite a large display at Gamescom this year. Mainly to show off Stadia, but also to promote their gaming content on YouTube.
My first impression of Stadia hardware was that the controller feels amazing. It's a combination of all the best parts of the current generation of controllers. It has the symmetrical analog stick layout of the PS4 or Switch Pro controllers but with the addition of knurled edges like the Xbox One controller. Additionally, the overall build quality felt really solid. I tried twisting and squeezing the controller to get it to creek and crack but it barely moved. If it ever becomes possible to use the controller on Steam then it may be my new goto.
As for games, Google had two games available to play: Doom Eternal and Mortal Kombat 11, but I was only able to test Doom. I thought that an FPS game would give a better impression of what Stadia is capable of during scenes with a lot of action and in situations where input latency is important.
Unfortunately, this is where my impressions began to change. Even though the game was being streamed to a monitor, it was clearly not 1080p. It was difficult to tell exactly what resolution it was running at because it seemed to change depending on what was happening on screen. There were also noticeable artifacts from the video compression during high-action scenes and it could not keep a solid framerate.

Input lag was not huge, but enough that it had an effect on quick movements. This was easily noticeable in Doom as it gave me the same feeling I used to get playing shooters on TVs with a lot of input lag. For character-action games or games that are a little more forgiving, the input latency would be acceptable, at least given the conditions available during the Gamescom demo.
If you have ever used a Steam Link then I think you've already had the Stadia experience. There doesn't seem to be any magic or special sauce going on here beyond Google's experience in streaming video. The Gamescom demo hasn't done anything to quell my skepticism. Seeing how it performs in real world, with internet that may not be 100% reliable, will be the real test of Stadia.
Stadia's Founder's Edition is set to release in November of this year.